Mulls & Bullets
At Wilsons & Co, we offer a selection of mulls and bullets as an alternative to the standardised snuff box.
The mulls we stock include classic Ram's Horn models that stay to true to traditional designs from Scottish history. Highlights include truly special mulls manufactured using the finest Derbyshire Ram's Horn.
We also offer a range of snuff bullets. These are perfect for those looking for a device that delivers the perfect dose of snuff. Stylish and contemporary, these bullets continue to grow in popularity.
You can browse through all of our snuff mulls and bullets here at Wilsons & Co below.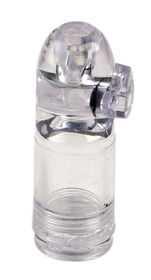 Snuff Bullets
£1.66
Derbys.rams Horn Snuff Mull
£470.00